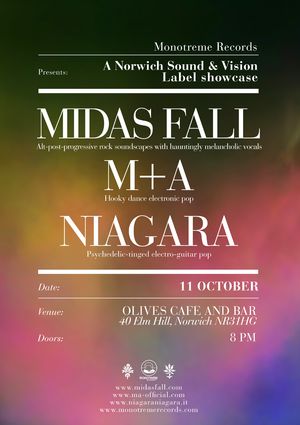 Following on from a fantastic weekend at LodeStar Festival (at which showcased two new tracks from our forthcoming EP 'Fluorescent Lights)', we are excited to announce two very special upcoming UK shows ahead of our November European shows. 
On October 11th we will be headlining the Norwich Sound and Vision Label Showcase at Olives Cafe and Bar, Norwich. For this event we will be joined our Monotreme Records labelmates M+A and Niagara, who provide hooky dance electronic pop and psychadelic-tinged electro-guitar pop, respectively. 
Just a few days shy of our European stint we will be providing main support to our Australian post-rock labelmates Sleepmakeswaves at top London venue Birthdays on November 3rd. Tickets to this show are available from
We Got Tickets
Full details of our upcoming EU dates and EP release will be announced in the coming weeks. In the meantime you can keep up with us on
Facebook
and
Twitter
.