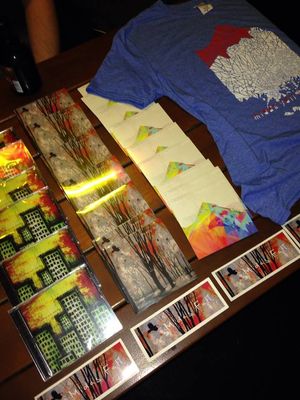 The follow-up release to our second album 'Wilderness' is finally out on Monotreme Records - hurrah! You can download it from the vast majority of digital reteailers, including iTunes, Amazon and the Android Play Store.
The EP is also available as a limited edition CD only from the
Monotreme Records webstore
or directly from the band at one of our upcoming European shows
.
At our shows we will also have a limited run of 'Fluorescent Lights' themed t-shirts as well as CD copies of our debut album 'Eleven. Return and Revert' and sophomore LP 'Wilderness' as well as stickers and badges, so you decorate yourself  like a Midas Fall Christmas tree, lovely. 
We look forward to seeing you on the rest of the tour, which so far has been massively enjoyable!
November 12th - Hafen 2 Offenbach, Frankfurt, Germany
November 13th - Gozsdu Manu Klub, Budapest, Hungary
November 14th - Underground Club, Iasi, Romania
November 16th - Petnoto, Plovdiv, Bulgaria
November 18th - Jazz Rock Cafè, Cheb, Czech Republc
November 19th - Bar Rossi, Zurich, Switzerland